This Saturday is my first 50 mile race. The American River 50 mile endurance run is what experienced ultrarunners consider an "easy 50." The first 25 miles or so take place on a relatively flat bike path, and the rest is on trails, with mild changes in elevation until the last 3 miles.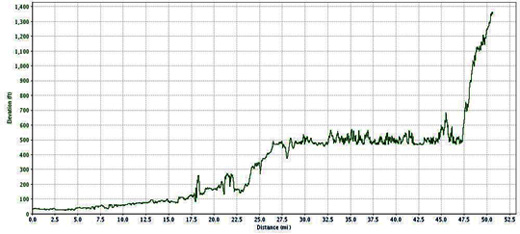 For some silly reason, I was unintimidated by this course and kept thinking, Oh, easy 50! I can do it in 10 hours, no problem. What the heck is wrong with me?? My training consisted of taking it easy when my knee hurt, when I had a cold, and when I could think of any other excuse. And now, I'm FREAKING out! I've been a procrastinator my whole life (some of my best papers in college were written the night before), but training for a 50 mile race is NOT something you can cram in at the last minute.
This being said, I can only hope/pray/beg for the best this Saturday. I can also make sure not to make this mistake again. I've already signed up for my next race, the Tahoe Rim Trail 50 mile endurance run, which will take place in July. The elevation chart for that race looks like this:
Notice how the start line is at an elevation of 7000 ft. So not only do I have to deal with 6,895 ft of TOTAL elevation gain (which is about twice as much as I'll be climbing this Saturday), but I'll have to do it at altitude!! So you can see why I'm already freaking out for this race too.
A few weeks back I bought a book on my kindle called Relentless Forward Progress: A Guide to Running Ultramarathons, by Bryon Powell. (He has a great blog, irunfar.com, that you should check out!) It gives a lot of useful advice and covers pretty much everything you'll need to know about ultrarunning, including how to tactfully pee in the woods. He also includes several training plans, which I am ACTUALLY going to use this next time around!
The one on the left goes up to 50 miles/week and the one on the right goes up to about 70 miles/week. Ideally, I'd like to follow the plan on the right, and default to the plan on the left when I need a break. Obviously I don't have 24 weeks to prepare (the Tahoe Rim Trail run–TRT50–is on July 21), so I will have to start somewhere in the middle of the plan. I'll figure out the logistics after I get past the AR50.
Basically, for Goal #2 I plan on following the training plan and consistently hitting the weekly mileage and long run mileage. I also plan on resting when it says REST, because sometimes that's what my body needs! And I also hope to incorporate some cross training and strength training to keep those joints healthy and muscles in balance. And as boring as it might be for you guys, I'll blog about it so I can keep myself in check.
So, how am I doing on my eating healthy goal? Well, Tony and I made this amazing catfish dish last night.
Wild rice, caesar salad with light dressing, and catfish: coated in cooking spray, sprinkled with lowfat cheddar and crumbled Chex cereal. This has been our go-to healthy meal for the last few weeks. We change up the fish and type of salad, cuz we're crazy like that.
I've also kept up a promise I made to myself: no froyo until after the AR50. It's been almost 2 weeks and I've started having hallucinations that look like this:
Anyone have any go-to healthy meals that are easy to prepare? I hate fish but eat it because it's healthy. I usually have to douse it in seasoning/sauce/cheesyChex to get it down the gullet.