One week until the Tahoe Rim Trail 50 Miler.
During the taper before every race, I start to get into freak-out mode. Currently, it's in full force and I know that this coming week will be filled with anxiety, excitement, nausea, doubt, and lots of nervous energy.
Have you ever been online shopping in the middle of the night and you end up getting a pair of shoes that seem great when you buy them, but when you wake up in the morning, you know that you'll never end up wearing them? They're too tall, or too flashy, or have too much leopard print and you know you won't have the confidence to actually wear them out in public.
Well, that's what I did when I signed up for the Tahoe Rim Trail 50 Mile Endurance Run. The guts I had at that fateful early morning hour have long since disappeared. This will be by far the most difficult race I've ever done for a few reasons.
1. My training has been mediocre at best.
2. This course has an elevation gain of about 10,000 feet over 50 miles. That's a lot of feet. And a lot of miles.
3. It all takes place around the Tahoe Rim Trail, which varies between 6,000-9,000 feet in elevation.
No, it's not as hard as Hardrock100 (which is being run as we speak). Those people are badasses. But TRT is no joke. And I'm starting to freak-out….
So to maintain my sanity during this taper, I've been focusing on the simple things.
Spending time with some hairy friends…
Trying to eat less of things like these…
And more of things like this:
And trying to focus on the fact that I've done something like this before: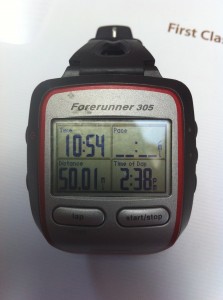 The hardest part of the taper is knowing that there is nothing left you can do to prepare. The fact that my training has been sup-par makes me more anxious, and I'm trying to focus on getting my head in the game as much as possible. I know that ultra-races tend to be more mental than physical, and that is one aspect I know I'll have control over. No matter what happens next Saturday, I'll enjoy a day of beautiful trails overlooking some of the most beautiful lakes in the world.
And on Sunday, I can as much ice cream as I want. 😉